What is IFAK?
Views:10 Author:Site Editor Publish Time: 2017-11-03 Origin:Site
IFAK is an acronym for "Individual First Aid Kit" or "Improved First Aid Kit". It has been a basic item for soldiers nowadays. Today we are going to make a brief introduction to IFAK.
The modern Individual First Aid Kit or IFAK was developed as a result of research performed into the causes of preventable deaths in combat during Operation Enduring Freedom (OEF) in 2003-2004 and Operation Iraqi Freedom (OIF) in 2006.
For those who served in the military in the 1980's and 1990's, the only soldier-worn first aid item was the trau-medic bandage. In a major leap forward at the commencement of the Global War on Terror, the military developed the Individual First Aid Kit (IFAK).
With the invasion and occupation of Iraq, beginning in 2003, the US military quickly fielded the first Individual First Aid Kit, which was comprised of the following pieces: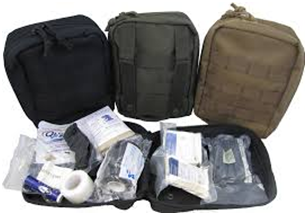 • Tourniquet
• Elastic bandage kit (this is similar to a field dressing)
• Bandage
• Surgical adhesive tape
• Nasopharyngeal airway kit
• Surgical gloves
• Combat gauze dressing
The Individual First Aid Kit increases individual war fighter capabilities to provide Self-Aid/Buddy-Aid and provides interventions for two leading causes of death on the battlefield, severe hemorrhage and inadequate airway. These capabilities increase soldier survivability during dispersed operations and the expandable pouch allows for METT-C specific "add-ins."To prevent soldiers dying from the massive hemorrhage, the tourniquet was inserted to Individual First Aid Kit; it is a robust and durable strap with tightening windlass buckle and locking device to stop the flow of blood to a wounded appendage. The next preventable cause of death is an inadequate airway. A nasopharyngeal airway kit is frequently inserted made up of French nasopharyngeal and a water soluble lubricant for insertion. All military kits have this, and most law enforcement kits have an NPA, but some LE kits leave it out.
The IFAK was provided to all deployed and deploying units by the RFI. The IFAK is AAC "D" (DoD Integrated Materiel).
Using an IFAK requires medical knowledge, basic skills and the decision to use it. It serves as the minimum necessary medical assistance to save a life. Almost 85% of preventable combat deaths are from bleeding out, and about 10% are from a collapsed lung. Knowing how to handle these two situations and having the right IFAK can have a substantial impact. People should definitely seek instruction from a competent trainer and practice with IFAK. In serious trauma, every second counts.
IFAK is very important in a battle. It can save a lot of life when using it correctly. So it is necessary to have a command of it.