Kenyan maternal and infant care program is given pledge of support as ambassador presents donation
A maternal and infant health program spearheaded by Kenya's first lady has been given a new boost by the Chinese government, which has committed to a continued partnership in the next five years.
Liu Xianfa, the Chinese ambassador to Kenya, also announced that China is urging Chinese companies doing business in the country to recruit and train more women for the betterment of the community. "We know that when a mother prospers, a family prospers too," Liu said during a ceremony led by Kenyan first lady Margaret Kenyatta to launch the 2018-22 strategic framework for the program.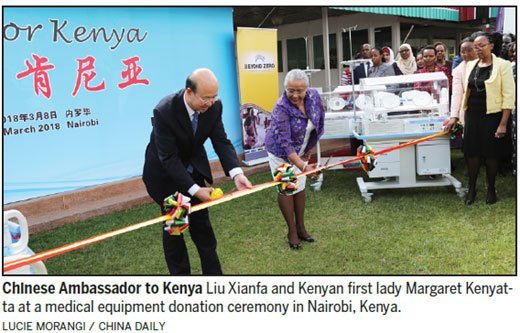 Known as the Beyond Zero campaign, the program was launched in January 2014 to improve maternal and child health in Kenya. According to the Joint United Nations Programme on HIV/AIDS, or UNAIDS, 15 women die each day in the country due to pregnancy-related complications, and 20 percent of the deaths among mothers are AIDS related.
China has been a partner in the four years since the campaign was launched, funding the purchase of mobile clinics and medical equipment, Liu said while handing over equipment valued at around $130,000, including infusion and micro-injection pumps that will benefit facilities in Nairobi and Tana River counties.
Liu said that the continuing partnership is part of China-Kenya strengthened relations and a south-south strategic program. "We have previously participated in the Beyond Zero program, and we are determined to contribute more. We are paying a lot of attention to the empowerment of Kenyan women, especially in the standard gauge railway. We have seen women undertake training programs in China to be locomotive drivers, and I believe they will empower their children. We are also mobilizing other Chinese companies to participate in this program. In another five years, we are going to see visible benefits from these efforts."
The ambassador hailed the first lady's efforts, saying they have already contributed to the cutting of maternal and child mortality, the effective prevention of new HIV infections among children, and expanded partnership in healthcare services.
"We know that this is just the beginning, and the new strategic framework will bring much more gratifying progress in the coming years," Liu said.
China has aligned itself with Kenya's efforts to improve public healthcare and has been instrumental in the building and equipping of four major health facilities, he said.
"We look forward to deepening our partnership with the Beyond Zero program to tap our cooperation potential," Liu said.
Kenyatta announced that the project would take a more targeted approach to promote women's, adolescents' and children's health issues. "This is the time to push, and to push hard," she said. "We have learned from experience and aim to make the campaign more effective. I look forward to consolidating my contribution to support solutions that address the social issues of our nation, initially by revamping existing health centers and in time by putting up a special mother and child Beyond Zero hospital," she said.
The first lady said the new framework is integrated with the sustainable development goals, Vision 2030 and the national agenda, also known as the "Big Four", to provide universal healthcare by 2022.
So far, the campaign has seen 52 ambulances distributed in 47 counties to assist expectant mothers who have difficulty getting to the nearest health facilities.
Footbridge collapses onto busy highway, crushes 8 vehicles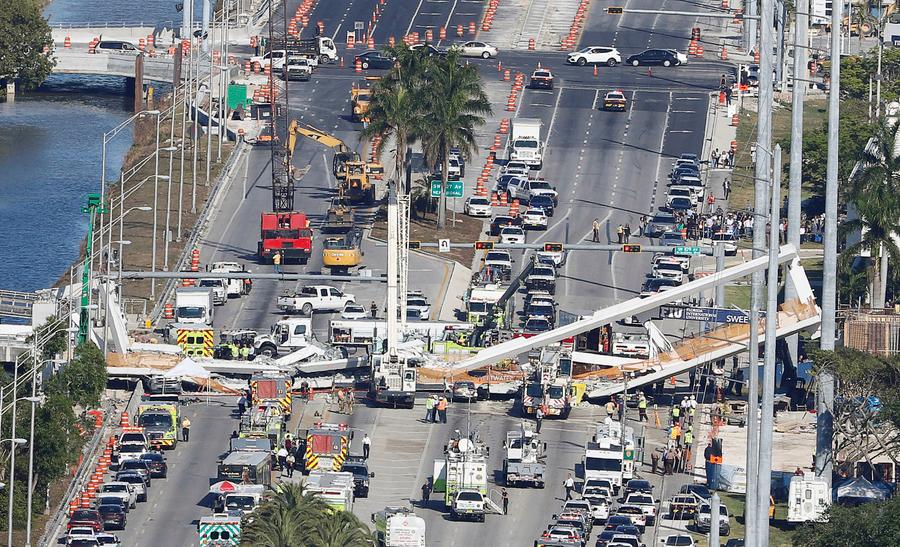 Aerial view shows a pedestrian bridge collapsed at Florida International University in Miami, Florida, March 15, 2018. [Photo/Agencies]
MIAMI — A pedestrian bridge that was under construction collapsed onto a busy Miami highway Thursday, crushing at least eight vehicles under massive slabs of concrete and steel and killing multiple people, authorities said.
Search-and-rescue crews drilled holes into the debris and used dogs to look for survivors. They had to work carefully because part of the structure was still unsafe. At least 10 people were taken to hospitals. The number of fatalities was not immediately known.
The 950-ton bridge had been assembled by the side of the highway and moved into place Saturday to great fanfare. The span stretched almost 200 feet to connect Florida International University with the city of Sweetwater. It was expected to open to foot traffic next year.
"We have a national tragedy on our hands," Sweetwater Mayor Orlando Lopez said.
Jacob Miller, a senior at FIU, was visiting a friend in a dorm when he heard sirens and horns honking. He went to a balcony and could see rubble coming down.
"I saw there were multiple cars crushed under the bridge. It was just terrible. I saw some people stopping their cars, trying to get out, trying to assess the situation to see if there is anything they could do to help," he said.
The National Transportation Safety Board sent investigators to the scene. Florida Gov. Rick Scott said he was headed there as well.
Miami-Dade Police Director Juan Perez said his department's homicide team would take over the investigation after rescue efforts are complete.
The exact death toll was unclear. Florida Highway Patrol Lt. Alejandro Camacho told CBS News that there were "several fatalities." Carlie Waibel, a spokeswoman for Sen. Bill Nelson, said local officials told Nelson that people had died, but a final number had not been confirmed.
An accelerated construction method was supposed to reduce risks to workers and pedestrians and minimize traffic disruption, the university said.
Cristina Rodriguez, a junior at FIU, said she was not surprised when she heard about the collapse. She said the bridge seemed to be built too quickly "to support everything that was on there." Rodriguez was not on campus Thursday but drives through the intersection almost daily.
Renderings of the project showed a tall, off-center tower with cables attached to the walkway to support it. When the bridge collapsed, the main tower had not yet been installed, and it was unclear what the builders were using as temporary supports.
Robert Bea, a professor of engineering and construction management at the University of California, Berkeley, said it was too early to know exactly what happened, but the decision to use what the bridge builders called an "innovative installation" was risky, especially because the bridge spanned a heavily traveled thoroughfare.
"Innovations take a design firm into an area where they don't have applicable experience, and then we have another unexpected failure on our hands," Bea said after reviewing the bridge's design and photos of the collapse.
Kendall Regional Medical Center received 10 injured people. Of those, two were in "extremely critical" condition and the other eight were stable with injuries such as broken bones, bruises and abrasions, said Dr. Mark McKenney, the hospital's director of general surgery.
Of the two more serious cases, one arrived in cardiac arrest but was revived. The other had a serious brain injury, McKenney said.
The main companies behind the $14.2 million construction project have faced questions about their past work, and one was fined in 2012 when a 90-ton section of a bridge collapsed in Virginia.
Munilla Construction Management, or MCM, the Miami-based construction management firm that won the bridge contract, took its website down Thursday. But an archived version of the site featured a news release touting the project with FIGG Bridge Engineers, a firm based in Tallahassee.
MCM said on Twitter that it was "a family business and we are all devastated and doing everything we can to assist. We will conduct a full investigation to determine exactly what went wrong and will cooperate with investigators on scene in every way."FIGG said in a statement, "In our 40-year history, nothing like this has ever happened before."But FIGG was fined in 2012 after a 90-ton section of a bridge it was building in Virginia crashed onto railroad tracks below, causing minor injuries to several workers. The citation from the Virginia Department of Labor and Industry said FIGG did not properly inspect a girder and had not obtained written consent from its manufacturer before modifying it, according to a story in The Virginian-Pilot.
Court documents show that MCM was accused of substandard work in a lawsuit filed earlier this month. The suit said a worker at Fort Lauderdale International Airport, where the company is working on an expansion, was injured when a makeshift MCM-built bridge collapsed under his weight.
The suit accused the company of employing "incompetent, inexperienced, unskilled or careless employees" at the job site.
A review of Occupational Safety Health Administration records shows that MCM has been fined for 11 safety violations in the last five years. The fines totaling more than $50,000 arose from complaints about unsafe trenches, cement dust and other problems at its Florida work sites.
Florida International University is the second largest university in the state, with 55,000 students, most of whom live off-campus. The bridge was supposed to be a safe way to cross a six-lane highway and provide a plaza-like public space with seating where people could gather.
The university is also home to the National Hurricane Center.
A university student was killed in August while crossing the road that the bridge was supposed to span.
Associated Press writers Jason Dearen in Gainesville, Kelli Kennedy in Fort Lauderdale, Curt Anderson in Miami and Tamara Lush in St. Petersburg contributed to this report.